Leader and Cabinet Members' Young Person Grant Scheme 2023
We are writing to introduce this year's Leader and Cabinet Members' Young Person Grant Scheme. The scheme will be open to young people aged 15 (current Year 11s) to 25 who are resident in Telford and Wrekin, or are a Telford and Wrekin Child in Care or Care Leaver who is currently not a resident in the area.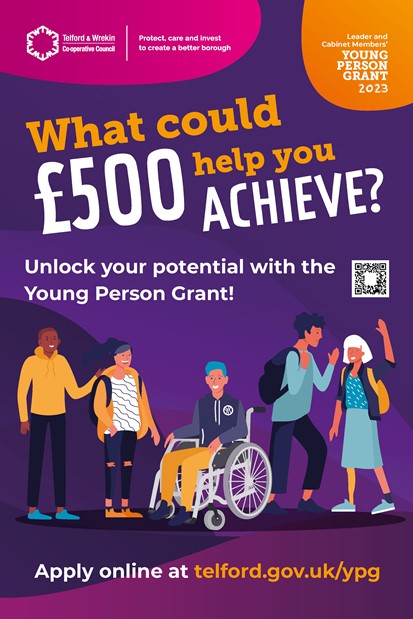 The grant is a monetary award of up to £500 to support young people in their education, employment or training, to support starting up a new business, and to support those who are overcoming adversities particularly over the last two years. 
Previous awardees of the grant have achieved the following: 
• Gained places on training courses 
• Been able to go to university with extra funding 
• Bought a new laptop for studies 
• Invested in specialist equipment for their job 
• Started a business 
• Applied for travel funding 
Applications from young people must include a reference by an independent representative, therefore staff within school may be asked by young people to support with their application by providing a short statement; staff may wish to have a discussion with young people planning to apply ahead of time so they can prepare and provide any documentation. All applicants are required to declare the value of the grant they are applying for and how this will be used, and provide a supporting statement about why they are applying for the funding. Further information and the terms and conditions of the scheme can be found on the grant scheme website. 
Applications will be open from the 8 December 2022 and we will be accepting responses until the 5 January 2023. All applicants will then be contacted by the 9 February 2023 informing them whether they have been successful or not. Successful applicants to the grant will be invited to an event in March 2023 where they will receive their award. 
We are asking schools if they might promote this excellent opportunity for young people by holding an assembly for their students within the eligible age range, display the attached posters, or ask form tutors and other key staff to discuss the grant as part of registration time or PSHE- there is a video here which you might wish to share in such a session. 
We are hoping to reach a record number of applications for this year, and support as many young people to achieve their goals as possible! We hope you will be able to support. 
Yours sincerely, and with thanks,
Cllr Shaun Davies 
Leader of Telford and Wrekin Council 
Cllr Shirley Reynolds 
Cabinet Member for Children, Young People & Families Councillor for Wrockwardine Wood and Trench 
Date Published: 01 Dec 2022