At 'Charlton School' we support and develop students' reading through daily DEAR time, which stands for 'Drop Everything and Read'. This is a time devoted to reading and quizzing, following the Accelerated Reader Programme.
AR is a reading programme which supports your child's reading practice and progress.
Your child reads books at the level best suited to them (established by a star test) and afterwards takes a quiz to test their understanding.
There is range of over 30,000 books to choose from for your child and these can be selected from school and public libraries, as well as private copies from home.
Key terms in Accelerated Reader:
Book Level – represents the difficulty of a text and your child will be given a book level range after taking the star test.
Points – These are earned by passing quizzes and they are set personal targets by their English teacher to support their reading.
Interest Level – This relates to the age group a book is suitable for, based on the content and themes. Within the same book level there will be different interest levels, even though the linguistic difficulty remains similar for both.
ACCELERATED READER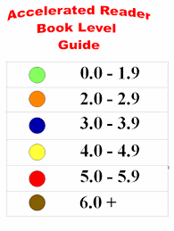 How to support your child to progress in their reading:
Encourage your child to read for at least 20 minutes a day at home
Discuss what they are reading with them, show an interest and visit the local library
Find suitable books at

 

www.arbookfind.co.uk

 

as part of the Accelerated Reader programme.
Use the Search function to look for specific titles or topics or go to Advanced Search to browse for books within your child's Zone of Proximal Development and interest level. Your child will know the level they are working on from their latest star test at school.